Hello, Jacuzzi® lovers and newcomers alike! Tarson Pools and Spas, a certified Jacuzzi® dealer, is thrilled to introduce the newest members of our spa collection: the J-LX® and J-LXL® from Jacuzzi®'s revolutionary J-LX® series. These modern marvels of design and functionality are all set to transform your outdoor living experience into a personal retreat of unmatched luxury.
Meet the J-LX®: Unparalleled Comfort Meets Modern Aesthetics
First off, we present the magnificent J-LX®, a perfect blend of innovative technology, luxurious comfort, and strikingly modern design. This spa comfortably accommodates 6-7 adults, making it the ultimate relaxation hub for family and friends or a solo rejuvenation escape. With 41 strategically positioned PowerPro™ jets, the J-LX® delivers an unrivalled hydrotherapy experience, transforming each soak into a personalized massage journey.
But the J-LX® doesn't stop at providing supreme comfort – it's also a visual treat! Its unique square shape, combined with the sleek acrylic shell available in Platinum or Porcelain, truly sets it apart in the spa world. Truly, the J-LX® is more than just a hot tub; it's an expression of style and a testament to Jacuzzi®'s commitment to innovative design.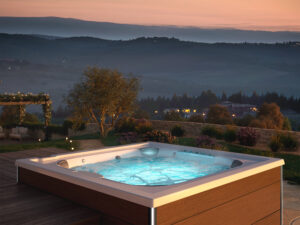 Welcome the J-LXL®: Exclusive Luxury in a Compact Design
Next in line is the stunning J-LXL®, the J-LX®'s sibling spa in the new J-LX® series. With room for 5-6 adults, the J-LXL® offers a slightly more compact design without compromising the luxurious soaking experience. Notably, the J-LXL® features an exclusive lounge seating area, ergonomically designed for optimal comfort and full-body immersion.
The J-LXL® is equipped with 39 PowerPro® jets, each thoughtfully placed to target key muscle groups for a soothing massage experience. And just like the J-LX®, the J-LXL® shines with its distinctive square design and luxurious acrylic shell, available in Platinum and Porcelain finishes.
Invest in Well-being with the J-LX® Series
The J-LX® and J-LXL® aren't just about luxurious soaks and modern aesthetics. They're also equipped with the ProClarity® and ProCatch™ filtration systems, ensuring crystal clear water for every soak. Plus, the infrared and red light therapy features work together to offer a spa experience that not only relaxes but also rejuvenates your body.
Embark on a journey to exceptional relaxation and wellness with the J-LX® series from Jacuzzi®. Get in touch with Tarson Pools and Spas, your certified Jacuzzi® dealer, to learn more about these remarkable spas. Turn your backyard into a five-star resort today!