With a rich legacy of more than 75 years in the industry, Tarson Pools and Spas is your trusted provider of commercial pool services for your esteemed aquatic facility. As pioneers in the field, we bring unrivaled expertise, innovation, and a deep understanding of the unique requirements of commercial pools.
Our comprehensive range of commercial pool services is designed to meet the highest standards of quality, safety, and customer satisfaction. From maintenance and cleaning to equipment installation, repair, and water quality management, our dedicated team of professionals is committed to ensuring the optimal functioning and enjoyment of your commercial pool.
One-Stop Solution for All Your Commercial Pool and Spa Needs
At Tarson Pools and Spas, we understand the unique requirements of commercial pools and spas. With our comprehensive range of services and expertise, we are your trusted partner for all your commercial pool and spa needs. From bulk chlorine delivery to maintenance and equipment replacement, we offer a complete solution to ensure your commercial aquatic facility operates at its best. Our dedicated team of professionals is committed to delivering exceptional service and unparalleled quality. Partner with us and experience the difference of working with the industry leader in commercial pool and spa services.
Chlorine Delivery
We provide reliable and timely bulk chlorine delivery to keep your commercial pool or spa properly sanitized. Our high-quality chlorine products help maintain a clean and safe swimming environment for your guests.
Maintenance Services
Our experienced technicians offer comprehensive maintenance services to keep your commercial pool or spa in optimal condition. From regular cleaning and water testing to equipment inspections, we ensure that your facility meets the highest standards of cleanliness and functionality.
Equipment Replacement
When it's time to upgrade or replace your commercial pool or spa equipment, rely on our expertise. We offer a wide selection of top-quality equipment, including pumps, filters, heaters, and more. Our team will guide you through the selection process and ensure a seamless installation for enhanced performance and energy efficiency.
A Stunning Before and After Showcase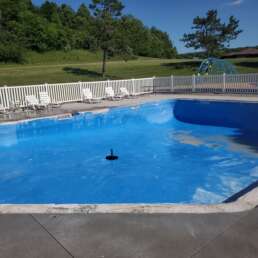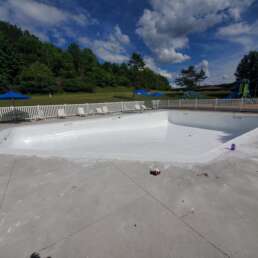 Witness the remarkable transformation of this pool, where diligent maintenance, expert concrete work, and a fresh coat of paint have brought new life and beauty to the aquatic oasis. Our dedicated team at Tarson Pools and Spas undertook a comprehensive maintenance project, addressing structural repairs and enhancing the visual appeal of the pool.
At Tarson Pools and Spas, we take pride in being your one-stop solution for all your commercial pool needs. With our comprehensive range of services, we truly do it all. From pool equipment installation and repair to reliable chlorine delivery, safety equipment provision, water testing, leak detection, patio furniture and more, we have you covered. Our experienced team of professionals is dedicated to ensuring the optimal functionality, safety, and aesthetics of your commercial pool. Whether you require regular maintenance, equipment upgrades, or specialized services, we have the expertise and resources to meet your unique requirements. Trust Tarson Pools and Spas for all your commercial pool needs, and let us handle the details while you enjoy a stress-free and exceptional aquatic facility.
Pool Equipment
Expert installation and repair of pool equipment, including pumps, filters, heaters, and control systems, ensuring optimal performance and efficiency.
Chlorine Delivery
Timely and efficient bulk chlorine delivery, providing the necessary sanitization to keep your commercial pool clean and safe for swimmers.
Pool Maintenance
Regular maintenance services, including thorough cleaning, debris removal, and water level management, to keep your pool visually appealing and functioning flawlessly.
Renovations
Transforming your pool's aesthetics with our renovation services, which include pool painting to revitalize its appearance and enhance its visual appeal.
Safety & Accessibility
Offering a range of safety equipment and accessibility solutions to promote a secure and inclusive swimming environment. We provide options such as pool lifts, handrails, and ADA-compliant ramps to ensure everyone can enjoy the pool with ease.
Leak Repair
Utilizing advanced techniques to identify and repair leaks promptly, preventing water loss, structural damage, and potential hazards.
Water Testing
Accurate water testing and precise chemical treatment to maintain proper water balance, ensuring optimal water quality and comfort for pool users.
Patio Furniture
Providing a wide selection of stylish and durable patio furniture to elevate your outdoor spaces, creating inviting and comfortable areas for relaxation and enjoyment.
Our team of experts is ready to listen, understand, and gather the necessary details about your business or project scope. By understanding your unique requirements, we can tailor our services to meet your specific needs and deliver the highest level of satisfaction. Let us guide you through the process, provide professional advice, and offer a customized solution that exceeds your expectations. Reach out to us now and embark on a successful partnership with Tarson Pools and Spas.