Jump in with some summer pool party ideas
A pool party are the epitome of summer fun. From sipping refreshing drinks to enjoying a dip in the pool, there's nothing quite like a poolside gathering. But why settle for an ordinary pool party when you can make it extraordinary? Get ready to take your pool parties to the next level with these unique and exciting ideas that will make a splash with your guests. Dive in and let your creativity flow!
Float Your Way to Fun:  Get creative with colorful pool floats for an Instagram-worthy party experience!
View this post on Instagram
Elevate your pool party game by providing an array of eye-catching pool floats. From whimsical unicorn rafts to giant pizza slices, the possibilities are endless especially with our Big Mouth pool floats sold at Tarson Pools. Your guests will have a blast lounging and posing for photos on these fun inflatables. Don't forget to set up a designated float station for easy access and let the floating fun begin!
Dive-in Movie Night: Transform your pool area into a cozy outdoor cinema for a unique movie night experience!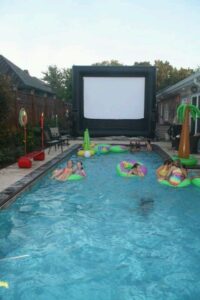 Turn your poolside into a captivating movie theater. Set up a large screen and a projector near the pool, and arrange comfortable seating with cushions and blankets. Encourage your guests to bring their favorite pool floats or inflatable chairs, so they can relax in the water while enjoying a classic movie or a recent blockbuster. Don't forget the popcorn and refreshing drinks to complete the cinema experience!
Glow-in-the-Dark Pool Party: Light up the night with a glow-in-the-dark pool party that will leave your guests amazed!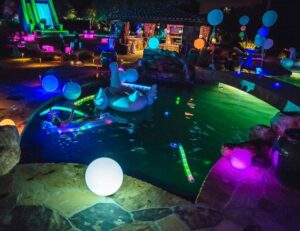 Create an enchanting atmosphere with a glow-in-the-dark pool party. Install underwater LED lights in various vibrant colors to illuminate the pool. Decorate the surrounding area with glow sticks, lanterns, and neon decorations. Encourage your guests to wear glow-in-the-dark accessories and provide glow-in-the-dark body paints for added excitement. It's a party experience that will leave a lasting impression!
Tropical Tiki Paradise: Caption: Transport your guests to a tropical paradise with a tiki-themed pool party!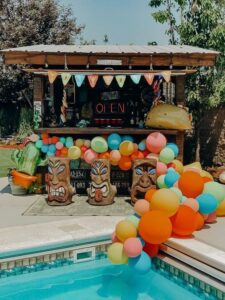 Create a slice of paradise in your backyard by hosting a tiki-themed pool party. Decorate the pool area with tiki torches, tropical flowers, and bamboo accents. Set up a bamboo bar serving refreshing tropical cocktails and mocktails. Encourage your guests to dress in Hawaiian shirts and grass skirts, and play some island-inspired tunes to complete the tropical ambiance. It's a pool party that will transport everyone to an exotic getaway!
With these unique pool party ideas, you can turn an ordinary gathering into an extraordinary experience that your guests will remember for years to come. Whether you're floating on colorful inflatables, enjoying a dive-in movie, embracing the glow of a nighttime celebration, or creating a tropical paradise, the possibilities for unforgettable pool parties are endless. So, dive in and let your imagination run wild! Get ready to make a splash and create lasting memories with these fun and unique pool party ideas.