Wave goodbye to the summer blues and hello to some phenomenal Jacuzzi® savings!
The fair might be virtual, but these deals are as real as they get! From now through September 4th, we're offering incredible deals that you simply can't pass up:
🎪J-400™ Series Special: Get a whopping $1,500 off or opt for our unbeatable special financing (reach out for details). Each purchase includes:
🚚 Free local delivery*
🛁 Free lift cover
🪜 Free steps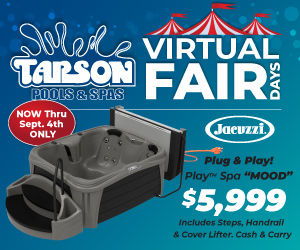 🎪Mood Plug and Play Jacuzzi® Play™ Hot Tub: Perfect for those seeking an immediate spa experience. Every purchase comes with:
🪜 Steps to ease your entrance
✋ A handy handrail
🛁 A convenient cover lifter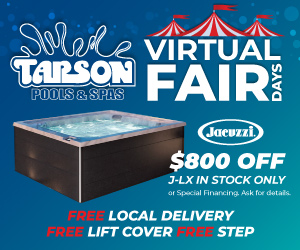 🎪J-LX™ Series Extravaganza: Delve into the luxury of the J-LX™ series with an irresistible $800 off or choose our special financing options (ping us for more info!). Included with every J-LX™ series purchase:
🚚 Free local delivery
🪜 Complimentary steps
🛁 No-cost cover lifter
Don't let this virtual fair whirl past you without grabbing these amazing deals! This is your ticket to transforming your backyard into a relaxation haven. So, why wait? Dive in, and let the Jacuzzi® experience begin!
---
*Local delivery limitations may apply. Contact us for more details