New SmartTub™ Feature Announcement!
Jacuzzi® SmartTub™ is already the simplest way to remotely monitor, control and enjoy your hot tub from your fingertips but with our new Scheduling feature, you can personalize your experience even more, all automatically.
To begin setting automated schedules, simply open your SmarTub™ App, and login. At the bottom of the screen with a Gear Icon, tap "Manage" and scroll down to the Alarm Clock Icon and then tap "Schedule". On this screen, you'll see any existing schedules that you've created. You can edit those existing schedules by tapping them individually. To create a new schedule, tap the "+" Icon in the upper-right portion of the screen to enter the wizard. Your screen will look something like this: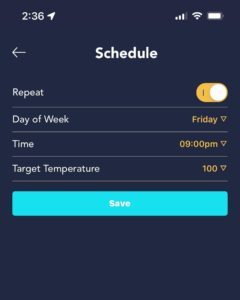 Repeat: Toggle this setting either ON or OFF to make this schedule repeat every week on the set day.
Day of Week: Choose which day of the week you want this schedule to run. Select any single day, Sunday-Saturday
Time: Select what time you want this schedule to run. NOTE: If you normally keep your spa at a lower temperature than the temperature you typically enjoy using your spa at, you might want to make this start time a few hours earlier than the time you plan to enjoy the spa in order to ensure enough heat-up time to reach your desired temperature.
Target Temperature: This is the temperature you want your spa to be at while you relax, and enjoy the hydromassage.
Click the blue "Save" button when you're all set. Repeat these steps for every specific day you want to set a schedule for.
If you don't have SmartTub™ installed in your spa, and want to learn more, click this link: Jacuzzi® SmartTub™ System We can install SmartTub™ in any Jacuzzi® Hot Tub manufactured after 2016!