Swim Spas Provide fun and fitness all year round
In Central New York, many homeowners have considered purchasing a hot tub for the cold winters, but also long for a pool in the warm summer months. An economic way to receive the benefits of both a pool and a spa is with a swim spa. Not only do you get a hot tub spacious enough for exercise, but you can also use your swim spa all year long. Especially adjusting spas temp to a refreshing 76-80 degrees.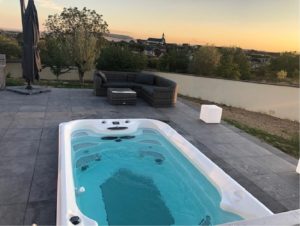 About
A swim spa is a large hot tub that offers a swim current for ultimate resistance swimming. Each varies in size, but average around 7 ft. x 14 ft. and 3-5 ft. deep. It can be used for exercises such as water aerobics, underwater running, strength training and swimming laps. Its unique size provides room to perform all four basic strokes. You can also use your swim spa for stress relief, relaxation and family fun.
Benefits
The swim spa provides functions that maximize its value. A standard spa can accommodate on average 4-6 people, whereas a swim spa can fit a dozen people comfortably. The compact space of a hot tub limits the amount of exercise options available, but in a swim spa you have plenty of space to perform your favorite exercise routine.
Features of the swim spa can be adjusted more easily than a pool. It is a smaller unit of water, allowing the temperature to change more rapidly at your control. You can even separate the temperature of the spa so that everyone is comfortable. When using the current you can regulate to a speed that best fits your needs. Increase the resistance for an intense cardio workout, or set the jets to low for a relaxing massage.
Installation
You can install a swim spa wherever the technical requirements can be accommodated: indoors, outdoors, above or in the ground. If you decide to move, the swim spa is a self-contained unit and can be transported to your new home. Swim spas are customizable by size, color, and light options. Plus they offer great features such as exercise equipment and stereo systems.
If you have been considering a pool or hot tub for your home and just can't decide, consider exactly what you want to get out of your water oasis. If you're looking to stay warm in the winter, cool in the summer, have exercising opportunities and have a great space for socializing then the swim spa could be a great fit for you. Check out our website at tarsonpools.com to stay informed on our spa sales or stop in today to discuss installing a swim spa at your home.