Glimmerglass Acapulco
Looking for the ultimate backyard getaway? Look no further than Glimmerglass fiberglass pools! Our Acapulco pool offers a cozy and unique free-form design that's perfect for all kinds of installation situations. And if you're really looking to take relaxation to the next level, consider adding an optional hot tub to your setup. Our high-quality fiberglass pool shells are crafted with the strongest materials available, ensuring long-lasting durability and easy installation.
Glimmerglass, is committed to providing our customers with the ultimate backyard escape. So, whether you're soaking up the sun poolside or unwinding in your optional hot tub, we've got you covered. Bring home a Glimmerglass fiberglass pool today and experience true luxury in your own backyard!
---
---
The Key to Quality and Strength
Not all fiberglass pools are created equal. The key distinction between fiberglass pools lies in their construction. Glimmerglass Fiberglass Pools, for instance, are made with a minimum of 5 layers of hand-laid fiberglass using only the finest American Made Fiberglass and marine industry-grade resin to reinforce them. The layer of fiberglass closest to the surface is typically made with Vinyl Ester resin, which shares many components with epoxy. As a result, top-notch boat and pool builders alike opt for Vinyl Ester resin to ensure optimal performance and longevity.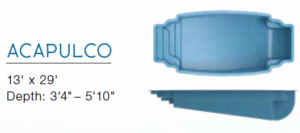 The Acapulco Fiberglass Pool, crafted by Glimmerglass, boasts a sleek and contemporary design that is built to last. This pool features a shallow end and deep end, with depths ranging from 3 to 5 feet, making it perfect for both swimmers and loungers. The Acapulco also comes equipped with built-in ledges on the side, offering a comfortable space for relaxing and taking in the sun. But that's not all! The Acapulco Fiberglass Pool is also a great choice for families with kids. The shallow end provides a safe and comfortable space for children to play and splash around, while the deeper end offers a thrilling space for older kids and adults to swim and dive. With its top-of-the-line craftsmanship and thoughtful design, the Acapulco Fiberglass Pool is the perfect addition to any backyard oasis.
Not only for the family but pets too
Glimmerglass Fiberglass Pools aren't just for people, they're for pets too! We know that your furry friends love a good swim, which is why we've made sure that all of our pools are pet-friendly. Our designers have even included special features like tanning ledges, swim-out seats, and benches so that your pets can enjoy a refreshing dip too. So, bring your four-legged pals along for some wet and wild fun in the sun!
BE GREEN WHILE SAVING THE GREEN

🍃
SOLID SHEETS OF FIBERGLASS
Glimmerglass fiberglass pools doesn't cut corners with Chop Fiberglass like some other manufacturers in the industry tend to do.

HAND MADE
Glimmerglass makes high-quality, handcrafted fiberglass swimming pools and 100% made in New York. GlimmerGlass prioritize skilled craftsmanship and refuse to compromise on quality.
MARINE GRADE RESIN
American Marine grade Resin the same used on boats will ensure a tight long-lasting seal!
Glimmerglass fiberglass swimming pools are not only crafted with care and attention to detail, but they are also incredibly energy-efficient. The same high-quality fiberglass that is used to construct the pools also acts as an insulator, allowing them to retain heat much longer than gunite, vinyl liner, and above-ground pools. The fiberglass shell of each pool provides excellent insulation, reducing heat loss to the cooler surrounding ground temperature and resulting in energy cost savings of over 30%. Customers can enjoy their backyard oasis without breaking the bank, thanks to GlimmerGlass' commitment to quality and energy efficiency.
Glimmerglass swimming pools offer a variety of benefits that can help homeowners save money while enjoying their backyard oasis. The smooth fiberglass finishes are resistant to algae and mildew, which means that the pump run times can be reduced to less than half that of a gunite pool. This results in significantly lower electrical consumption and lower monthly bills. In addition, the self-insulated fiberglass construction increases the pool's ability to maintain water temperature, which means that heater run times can also be shortened, reducing the energy needed to keep the pool warm. By choosing a GlimmerGlass fiberglass pool, homeowners can save money on energy costs while enjoying a beautiful and comfortable swimming experience.
Hot Tub Addition
More info on the optional Glimmerglass hot tubs to complement your fiberglass pool
Spillover
7'6″ x 7′

Depth: 3′
Spa
7'6″ x 9'6″

Depth: 3'4″
Spillover
8'6″ x 9'6″

Depth: 3'4″
Tanning Ledge
9′ x 15'6″

Depth: 10″
Additional information
| | |
| --- | --- |
| Weight | 8000 lbs |
| Dimensions | 156 × 348 × 70 in |
| Brand | GlimmerGlass |
| Model | Acapulco |
| Pool Style | Inground |
| Glimmerglass Colors | Coastal Bronz, Ocean Blue, Sapphire Blue, Snow White, Steel Grey |
| Glimmerglass Spa Addon | Harmony Spa, Harmony Spillover, Harmony Tanning Ledge, Leisure Spa, Leisure Spillover, No Spa |