Facts: Why Choose Fiberglass for Your Future Pool
As you begin to explore options for your future inground swimming pool, there are three common types of installations: Concrete/Gunite, Vinyl Liner, and Fiberglass. All three have different pros and cons that might make one better for your specific needs, however in nearly all cases you'll find that the unique aspects of fiberglass make it the most versatile, longest lasting, and highest quality pool available.
Maintenance
Fiberglass pools are by far the easiest pools to maintain. Why? The top surface of a fiberglass pool, the gelcoat, is virtually non-porous which means that it's very difficult for dirt, algae, and other contaminants to take hold in the pool surface. In comparison, concrete pool is full of nooks and crannies for algae to grab onto. Weekly brushing is required to prevent algae buildup and to keep the plaster or pebble surface free of calcium that collects on the tile line.
In addition, chemical usage in concrete pools is much higher because of the need to penetrate the pool surface to kill algae. Concrete pools require daily doses of muriatic acid to lower the pH of the water. This is because concrete is alkaline based and constantly increases the pH of pool water. Fiberglass pools, on the other hand, are inert and do not effect water chemistry in any way. Fiberglass pool owners typically spend 75% less money maintaining their pools. 
Installation
Fiberglass pool shells come delivered in a single piece, and are installed by a crane. A typical installation time is 2-3 days including excavation and plumbing. Compare that to 2-3 weeks for a liner pool, and several months for a concrete pool. Fiberglass gets you swimming sooner!
Durability and Longevity
Fiberglass pools don't use a vinyl liner, so there are no costly liner replacements over the life of the pool. The surface of a San Juan Fiberglass Pool uses 100% hand laid fiberglass sheets. Using a sturdy combination of hand-laid fiberglass sheets, Woven Roving and Vinyl Esther Resin – they produce the strongest fiberglass pool shell on the market! Vinyl liners can be $4k-$6k to replace, and tears and punctures can happen from dogs getting in the pool, tree branches, patio furniture blown into the pool, etc.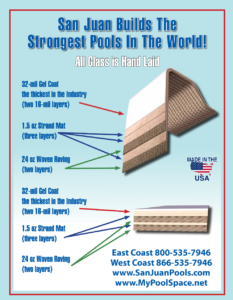 Cost to Own
Check out this graphic which outlines average costs of ownership of various types of pools over a 10-year period: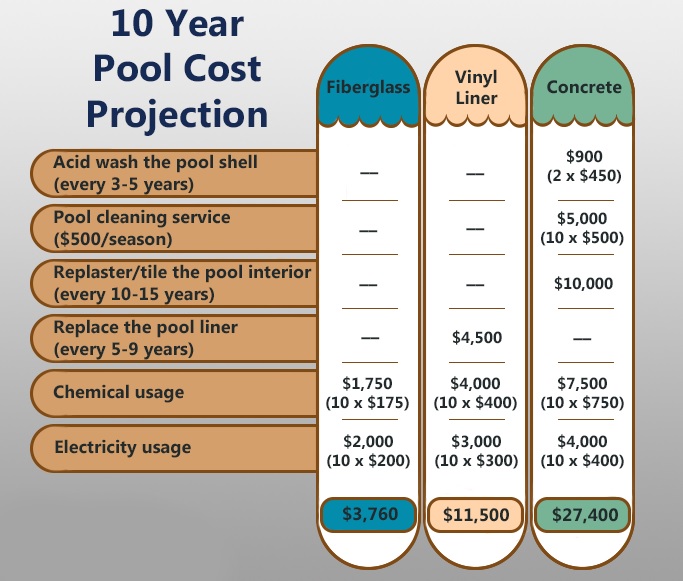 Fiberglass swimming pools are great for those who:
Have a budget of $35k and up
Can find a fiberglass swimming pool design that meets their needs
Want low maintenance
Want a pool that doesn't cost a fortune in the long run
Want a quick and relatively pain-free installation
Text or call our San Juan Fiberglass Pool specialists today at (315) 291-8800 to get a quote! Installation still available for Summer 2021!