The health benefits of a hot tub
The word spa is derived for the Latin "salus per aquam, which translates as "health from water." There are many wonderful advantages to owning a spa, but did you know it provides health benefits beyond stress relief? Whether you have a chronic condition or just need a way to relax, a spa can help enhance your life and health. Here are some conditions that can be helped with a spa:
Troubled Sleeping
Spas are a great way to reduce stress, a common variable in sleep disorders. The decrease in body temperature when you exit the spa helps induce the feeling of tiredness. It is recommended you spend 15 minutes in a hot tub about 90 minutes before going to bed in order to improve the quality of your sleep.
Circulation and Blood Pressure
The massaging jets and warm water stimulate impulses of the nerves and help with blood flow, digestion and boosts your immune system. The heat also helps open up blood vessels, decreasing blood pressure.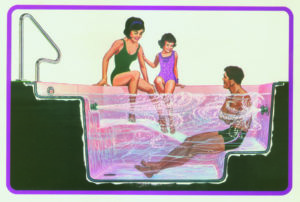 Improved Range of Motion
As we age, we lose our range of motion. This process is gradual for some and swift for others, depending upon factors such as genetics, activity level, injuries, and the presence of any medical conditions like arthritis.
Through regular usage, your hot tub can help you restore lost flexibility and slow the natural stiffening that comes with age. The warm water of your spa works to create hydrostatic pressure—the pressure caused by the weight of fluids—on the body. This reduces joint inflammation, which in turn aids mobility. The buoyancy experienced in a spa relieves muscle tension, allowing your joints and muscles to relax and become more pliable. While soaking, you can take advantage of your relaxed state and your water-induced buoyancy to gently practice flexibility exercises.
Muscle Tension and Joint Pain
The warm temperatures of a hot tub relax your muscles and the buoyancy of the water takes pressure off the joints. These can help with pain or discomfort associated with arthritis, fibromyalgia, chronic fatigue syndrome and other conditions. Massaging jets relieve pressure on your nerves and reduce tension in your body. Having multiple jets saves time by focusing on different areas at one time and you can control their intensity to accommodate your body's needs.
Type 2 Diabetes
Participating regularly in hot tub therapy can help with symptoms of Type 2 diabetes, such as improving sleep, lowering your blood sugar, and losing weight. The buoyancy and water resistance contribute to light exercise routines that lead to weight loss and heart health. Consult with your doctor before trying hot tub therapy in order to ensure proper practices.
There are many other benefits of using a hot tub such as releasing contaminants through your pores, providing a sense of well-being, and it can be a great way to bond with your loved ones.
If any of these benefits resonate with you, a spa is a great investment for your life. Come in or give us a call so we can help you pick out a spa that best meets your needs.