Create an awesome pool party this summer
Tarson Pools and Spas Guide to Pool Party Planning!
Throwing a great pool party is on most pool owners' summer to-do lists. This year we've decided to give you some of our own great tips for making your summer pool party a must-attend event! You can still have a great pool party and Social Distance! We do recommend to abide by State Rules no gathering larger than 10 people*. There is also no evidence that COVID can spread through a well-treated pool read our article here.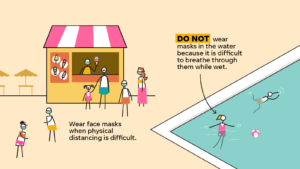 Safety first!  Make sure all your pool deck and areas are clean and in good repair.  Chemicals should be put away and you and your family should be current on all water safety rules. You can read our blog post on those here.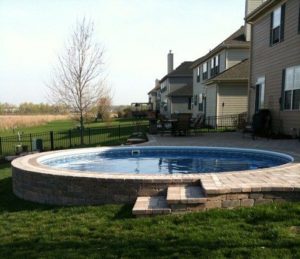 What is the theme of your event? A simple backyard BBQ, an evening dinner by the pool, or a more casual family event?  Is this a fun kid-friendly event or an intimate gathering of adults?
For a children-friendly event be sure to provide your guests with little swimmers, towels, sunscreen, and pool game options like diving sticks. Some guests will bring their own but it never hurts to have extras on hand.
For an adult theme, the pool party considers the ambiance of the event. Maybe something simple and airy like this would work. If the party is more of an evening affair consider floating candles or pool lights.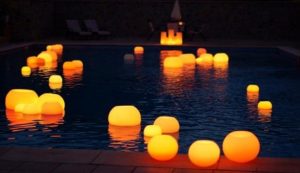 Get creative with the invitations to your pool party. Don't just call people to invite them,  give them something special to look forward to.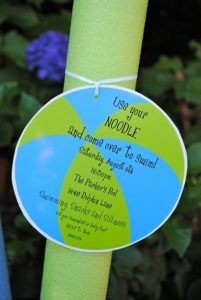 Now the party is planned and the guests are invited! Making sure your guests are comfortable is the next order of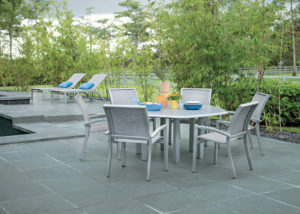 business. Plan that not all guests will be swimming, some may want to sit and chat. Be sure you have provided plenty of seating and space to relax near the pool for those who won't be getting in the water. We do sell a great line of patio furniture if you are looking around for some comfortable seating! You can find our patio furniture line here.
The shade will be important as well!  An umbrella or seating in parts of your backyard that are naturally shaded will make your guests more comfortable. We offer a full line of retractable awnings if your backyard offers no natural shade.  You don't want sunburned guests to leave your party.
What will all your party-goers be eating and drinking?  Plan your snacks and meals accordingly. Since it's summer be sure to provide plenty of water and hydrating beverages. If you are having a kid-friendly party make the finger foods really pop by adding a cute theme throughout. We recommend for finger foods to spike with toothpicks in order for guest to limit touching other food! Candy that is wrapped is also ideal! Here are some ideas: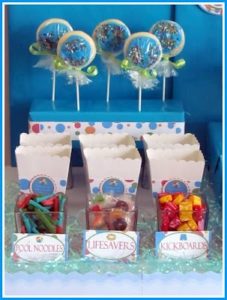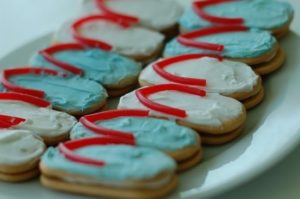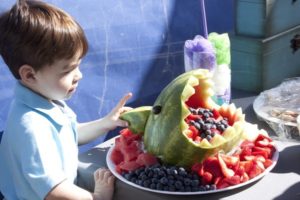 For an adult pool party consider adding in theme ideas where they make sense. Adults might not like a shark-filled with fruit but maybe a signature cocktail or mocktail is more fitting. You can also add other elements that will make the day special and memorable like these napkin rings. It's the small details that will have your guests raving!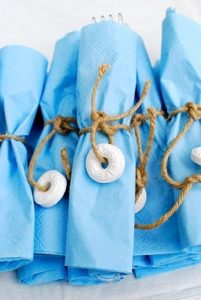 Not all pool parties need to be structured events either. Sometimes unplanned guests make the best memories. However, you choose to throw your pool parties this summer know that we are always happy to help keep your pool sparkling clean and safe for all your guests. Stop into any of our six locations or give us a call at 315-291-8800. Remember we offer free water testing at all our locations. Please be safe, wash 🧼 your hands, and keep your distance!