American made aboveground pools: Radiant Metric Round
You may feel that now is not the time to be thinking about pools in Upstate NY with the cold temperatures, but now is the perfect time to start doing your research. In this entry of our "American-Made Above Ground Pools" blog entry we will be giving you information about Radiant Above Ground Metric Round Pools.
In our March 2014 blog entry, "Choosing Your Pool: Radiant Pool Edition" we introduced you to all the unique qualities of the Radiant In-Ground Pool and why it is a perfect fit for this area. These same qualities are true for the Above Ground Metric Series, such as:
BUILT TO LAST
What sets this pool apart from the rest is in its design. Radiant Pools use the same technology used in the construction of aircraft, which makes the pool walls stronger than steel, polymer and even concrete. You never have to worry about the sustainability of your Radiant Pool because the walls will never rust, warp or crack.
CUSTIOMIZABLE  
The Metric Round Above Ground Radiant Pools come with 7 dimension choices, starting at 16' and going up to 33'. With the superior wall construction of the Radiant Pool it can be installed aboveground, semi-inground, on a slope or into a hill. The Radiant Metric Series Pool fits any backyard and any budget.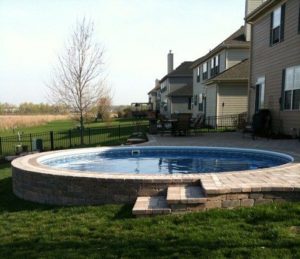 You can also add on accessories:
FENCE AND GATE KIT: Add an extra layer of security to your pool with the fence and gate kit. The kit comes with a custom fence mounting clip with an easy slide-and-bolt assembly that creates a clean, finished look. Nothing hangs over the top, no brackets bolted to the side of the pool. The kit includes fence sections, custom fence mounting clips, gate, and all hardware.
RADIANT INSIDE STEP:  In the past, when you thought of above ground pools, you would picture a ladder as your only means of entry into the pool. Radiant Pools offers an inside step that allows you to walk into the pool, just like in their in-ground pools. Making it more accessible for all members of your family and friend
CUSTOM WINTER COVER: Winters can be very harsh and damaging on above ground pools, but with a winter cover designed exclusively to fit into the coping of Radiant Metric Pools you can be put at ease that your pool will weather the winter. The coping, made of PVC, covers the edge of the pool wall and has an inside track to hold the pool liner in place and an outer track to hold the Metric Custom Winter Cover in place.
Available for both standard 2" and premium 4" coping, the custom fit provides perfect coverage for winterizing your Metric Pool. The custom cover is made with ArmorKote™ technology with a triple laminated no-rip polyethylene weave. The perimeter has a triple edge reinforced binding and it is lightweight for easy installation, removal and storage.
SWIM LONGER
The built-to-last insulated wall panels help your pool water heat up faster and keep it warmer longer. This means you can start your swimming season earlier and swim later. The average Radiant Pool extends your swim season by 2 months! With the superior heat retention properties of a Radiant Pool, you can swim during the entire swimming season without the need of a heater saving $1000's on heating costs.
ENVIRONMENTALLY FRIENDLY
A Radiant Pool is an investment that you can feel good about because it helps to lessen your footprint. The materials used to construct Radiant Pools are ozone friendly and 100% recyclable. They are the only energy efficient, an Energy Star™ Partner since 2006, and environmentally smart pools on the market.
WARANTY
The Metric Series warranty includes protection from winter damage! Snow and ice buildup can destroy a traditional aboveground pool. The incredibly strong Radiant pool wall minimizes this potential harm.
Radiant Pools are 100% made in the USA and come with a 100% lifetime warranty that can be transferred to new owners if you should ever sell your home. Also, if your purchase is financed through a home equity loan, your interest is considered tax deductible. 
If you would like more information on purchasing one of these Above Ground 100% American Made pools, would like to layaway your pool and receive early installation dates or have questions regarding a pool that you own please give us a call today at (315) 291-8800, or stop into our North Syracuse or East Syracuse location and we would be glad to help.